My old friend
John Jacobson
passes along this link to the final pages of the Mexica Aztecs'
Codex Boturini
which shows some very interesting text/sequential image combinations. It's definitely worth reading through the Brief Readings of each page, and at least perusing
the essay
.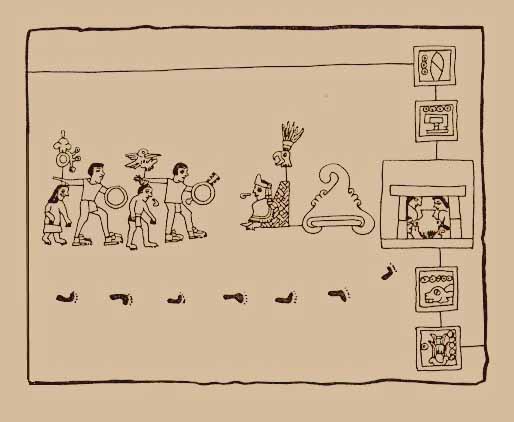 One of the things I find interesting about it is its use of footprints to provide the "path" of the gods, which helps "unify the design of the manuscript." Structurally, this is interesting because the footprints retain an aerial view while the rest of the images feature a lateral viewpoint. This is reminiscent of some of the drawings by Arrernte children who unite the aerial view of sand drawings with the lateral view of Western representation.
It also seems that the reading of the manuscripts is somewhat as a mnemonic – not fully a visual narrative that draws its meaning from the properties of the graphics alone, joined by the meaning of the words. Rather, it lies on the cusp area of my
CMGS
where the drawings represent mnemonic signs for "set of concepts that could be verbally formulated in a number of different ways," used as a supplement to oral performance.
This type of visual concepts is an interesting feature of many older systems (including the Tibeto-Burman Naxi as well as several others). It's kind of a halfway usage of the visuals without, in my estimation as yet, fully becoming a visual language, while also not using the transcription system as its own stand-alone system of "writing."
Reposted 8/11 with fixed links